The Amazing, fantastic, almost completely true story of one Mr. Harry B. Dazzle.
If at first, you don't succeed, try, try again, as the saying goes - and it's one that faithful lotto fan, Harry B. Dazzle took firmly to heart, playing the lottery every single week, rain or shine, for 25 long years. Who knows what it was that made Lady Luck finally sit up and take notice of Harry B. Dazzle (Harry Dazz to his friends) but once her eye fell on this loyal lotto player, earnestly choosing his lucky numbers without fail, she decided to make his favourite pastime worth his while.

And with a snap of her fingers, one fateful day Mr Hary B. Dazzle of 10 Arcadia Avenue, County Clare, Ireland, was plain Harry Dazz no more. Instead, he was the instant winner of the one time, Outer Mongolian, $5 Billion Mega Deka jackpot - the world's biggest ever lotto jackpot and one that catapulted Harry beyond rich and famous straight into the stratosphere of the uber-mega-ultra-wealthy!

Money v2 2x5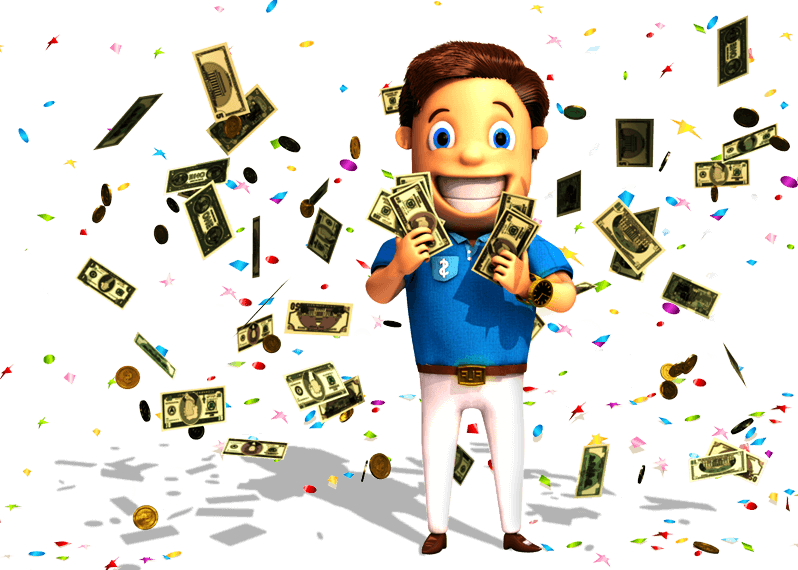 For the next three years, Harry Dazz lived a life most of us could only ever dream of - huge houses, fast cars, supermodels on his arm, and a fleet of Learjets at his beck and call. If billionaire playboy was a job title, Harry Dazz would have had a perfect performance appraisal every year and then some. Once he almost decided to have business cards printed out - but then realised he could have way more fun with an Amex Black card instead. So he did.

However, no-one's life is completely perfect (although Harry's came rather close) and so while he was partying from one end of the earth and back again, a single question kept plaguing him. So much so that one morning, unable to sleep, he found himself pacing the marble floor of his Tuscan villa, and asking himself the same questions over and over again. "Should winning the lottery really be so hard?" "Is there a way I can win money online without having to buy lottery tickets?" and "What is the easiest way to win money?"

Island v2 2x4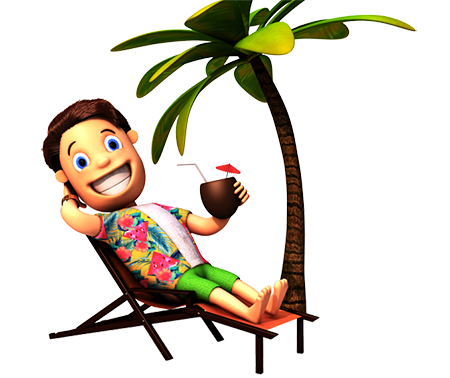 You see, Harry's fortune hadn't come to him overnight. Instead, he'd tried and tried for many, many years - buying lottery tickets in every conceivable draw every week, dutifully choosing his numbers, watching the draws, and going out and buying more tickets when his number combinations hadn't paid off.

He'd spent thousands along the way, and worn himself out in the process - so while he was recovering from all the stress with daily massages and dinners at the Ritz, he wanted to find some way of ensuring that other lotto players were spared the same hardships. After all, what was the point of winning so much money if he couldn't use his good fortune and experience to help others hit massive jackpots too?

Finally satisfied, Harry went back to his four post bed and fell into a deep relaxing sleep. The next morning (ok, afternoon) Harry decided to put his plan into action – his plan of making massive lottery jackpots easily accessible to everyone wanting to play for them.

And then he sat back and relaxed and let the ideas swirl around in his head for only a few hours when the big ideas finally hit him!
Harry flashed back to the hours he would spend in queues, brow sweating and legs tired as he would have to wait before he could buy his tickets. That had to be a way to play the lottery and win money without having to waste hours buying tickets from the shops.

Then a stroke of genius hit him while scrolling through his social media feed; people should be able to play online for money and other prizes, no matter where in the world they lived! Winning money online should be as easy as using Google or social media, and that's when it all came together.

Harry would call his brainchild FreeLottoFest, and it would be the internet's home of lottery jackpots and BIG money prizes to win online. Players from Egypt to South Africa, Namibia to Australia and to all the corners of the UK, they would all be able to make money online by playing for and winning real money from real lottery games.

He then thought to himself, 'what will make FreeLottoFest different from ordinary online lottery agents?' And with another stroke of genius the ideas started coming to him. First off, there would need to be perks, BIG perks.

So first he decided he would give new players access to the world's best lottery experts with years of experience under their belts. This would mean that new players would be able to skip all the learning curves in playing the lottery, and go straight into a strategy that offers better odds and MUCH bigger prizes. In a nutshell; the FreeLottoFest agents are tops when it comes to real-money competitions and are all round money experts!

Standard Harry 1x 5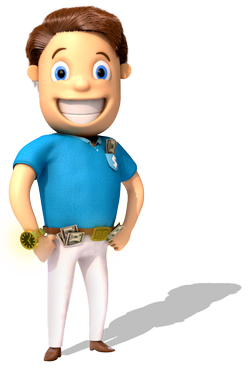 Next, he decided that he would condense everything he had learned about playing the lottery in one easy to read guide to winning the lottery. That was the moment that Harry Dazz decided to throw the lottery rule book out of the window and start writing his own - a book that contained countless free opportunities to win the biggest jackpots in the world with no time, and no money wasted.

And so he got to work writing 'The Lotto Secret', the world's number one guide to playing and winning the lottery by improving your overall winning odds. And the good part? Harry decided to include this book along with the over $800 worth in other FREE bonuses and services offered by FreeLottoFest for all new players!

Now thanks to FreeLottoFest and Harry's stroke of genius, there's no need for lotto fans to spend hours buying tickets, choosing numbers, waiting for the draws, and coming up empty-handed. That's because, at FreeLottoFest, you'll be able to play for MILLIONS EVERY DAY of the week, with not one, not two, but four different offers to stake your claim to the world's biggest jackpots every day!

And to make sure every new player would have the advantages he never had; Harry also decided to give away over $800 worth of free perks with each of the bundles. These perks would go a long way in helping FreeLottoFest become the absolute best site to access competitions and lottos to win money online. And the best part? You can play the competitions and lotteries online at FreeLottoFest from anywhere in the world!

And if you thought all that was THE good news, you'd be wrong. Because do you know how much it costs to play at FreeLottoFest? From as little as $/£1 you can play tickets in American and European lotteries that could net you millions. That's life-changing payouts in jackpots that you can play for, all for the price of a cooldrink! For this low price you can win actual money online by playing in either the Mega Millions or EuroMillions. Winning either of these lotteries is a quick and easy way for you to get your hands on money and win big online!

Party v2 2x5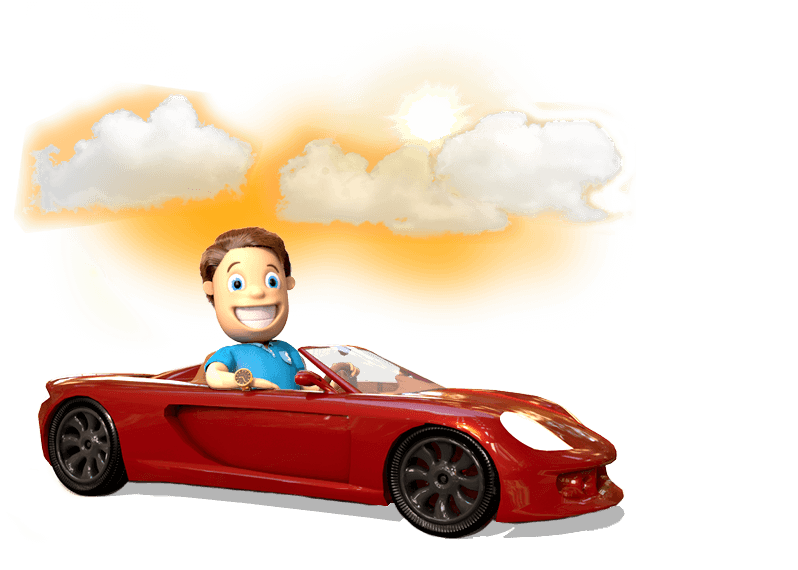 There have been two red letter days in Harry Dazz's life so far - the day he became a lotto jackpot winner, and the day he came up with a way for all lotto Players from around the world to experience the same thrill of winning, and the same life of luxury.

FreeLottoFest gives you the option of picking from four exclusive lottery deals. Each deal is different in pricing, jackpot prizes, winning odds and some even offer money-back guarantees! Just pick one of the four incredible offers, play your lucky numbers and wait for the millions to start rolling in! Harry Dazzle and FreeLottoFest are bringing the magic and millions of the best European and American lotteries right to your doorstep.

So what are you waiting for? Pick your favorite offer, register an account on a partner site, and see how easy it is to pick up the best lottery deals and bonuses online.
The millions are waiting, and they're yours for the taking! The only thing Harry asks is that once you become a multi-millionaire, you fly through to his Tuscan villa so that he can toast your good fortune with more of his Moet champagne. He's got cellars full of the stuff.

Disclaimer: As a footnote, we sincerely hope you enjoyed our fun, fictional story of Harry Dazzle, the world's richest lotto winner with his fanciful billionaire lifestyle most of us can only dream of :-)